About Us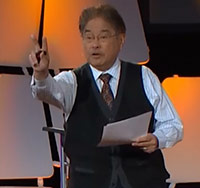 About Harry K. Wong
Harry K. Wong has authored over 30 publications including the leading book in education on how to start THE First Days of School, a monthly column on www.teachers.net, a CD set, and books on New Teacher Induction and classroom management. He has an eLearning course on classroom management and has appeared in an award-winning video series, The Effective Teacher.
His techniques have been adapted by thousands of educators for success in their schools and classrooms. He has been called "Mr. Practicality" for his common sense, research-based, no cost approach to managing a classroom for high level student success.
His many journal articles can be found in Educational Leadership, KAPPAN, Principal Leadership, NASSP Bulletin, American School Board Journal, Kappa Delta Pi Record, School Business Affairs, Education Week, and Instructor. Most all of them can be accessed at www.iWong2Learn.com.
He has been credited with transforming schools and turning around the lives of tens of thousands of teachers. Their stories can be found on www.teachers.net.
Because of his achievements, Harry has been awarded the Horace Mann Outstanding Educator Award, Upton Sinclair Award, Outstanding Secondary Teacher Award, the Science Teacher Achievement Recognition Award, the Outstanding Biology Teacher Award, and the Valley Forge Teacher's Medal. He was also the subject of a story in Reader's Digest.
Instructor magazine (March 2006) announced their readers' poll for the most admired in the world of education. Harry Wong was on the final list of 20 along with Maya Angelou, Laura Bush, Hillary Clinton, Ron Clark, Marva Collins, Howard Gardner, and Oprah Winfrey.
In 2012, the National Teachers Hall of Fame in Emporia, Kansas, presented him with its first ever Lifetime Achievement Award.
Harry K. Wong is the most sought after speaker in education today, booked from two to four years into the future. He has given some 4,000 presentations to over a million people. He has been the general session speaker at every major educational meeting and at Toastmasters International. His lectures have taken him to every American state and Canadian province and to Europe, Asia, South America, Africa, and Antarctica. His wife, Rosemary, shares the stage with him as he travels the world helping teachers.
He is a former secondary science teacher and as a classroom teacher, he developed methods which resulted in his having no discipline problems, a zero dropout rate, a 95% homework turn-in factor, and the ability to demonstrate mastery learning for each of his students.
A San Francisco native and still a resident of the Bay Area, he is a graduate of Lowell High School. His undergraduate degree is from University of California, Berkeley. His doctorate is from Brigham Young University in Utah.
He and Rosemary are new teacher advocates. He is the father of three children, four grandchildren, and is madly in love with his Sicilian, mentor-teacher wife. They have created The First Days of School Foundation (www.FDSFoundation.org) which built and maintains a school in the jungles of Cambodia, giving over 425 students each year an opportunity to succeed.